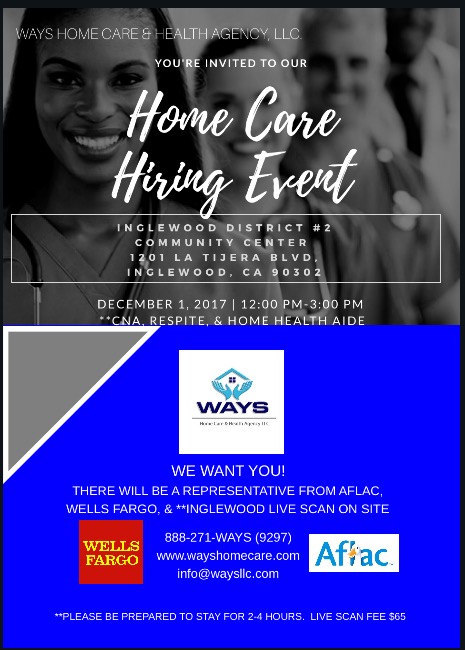 WAYS Home Care & Health Agency, LLC is hiring immediately for qualified home health professionals to help lead the home care industry by providing impeccable customer service, poise, and personality all rolled into one. We are in search for talented CNAs, Home Health Care Aides, Respite Care Providers, and more.  Experience is a plus, but not necessary.
It's happening on Friday, December 1, 2017 at the Inglewood District #2 Community Center, 1201 Latijera Blvd., North Inglewood, California 90302 from 12 PM-3 PM.
Despite the unfortunate building fire that damaged our corporate headquarters last week, we are STILL making moves to continue to be the health agency that holds onto the "no excuse" rule of business. This means that we love our clients, employees, and the nature of our business too much to let any obstacles get in our way! So come join our team.
For all positions, send your resume to [email protected], and pre-apply at http://wayshomecare.clearcareonline.com/apply.
#preapply #email #WAYSHomeCare #CNA #RespiteCare #HHA #HomeCareHealth #Hiring #Superstar